The North Devon House of Prayer pays it's bills solely by the gifts and donations of local Christians and Churches. We are now a Charity and you can support and donate to use using gift-aid through Stewardship
Our staff and volunteers don't receive any salary from the charity. 
If you would like to support this ministry by either a one-off donation or regular giving please visit our Stewardship giving site below.
If you would like to explore or sign up for Legacy giving please get in-touch with the office. We can sensitively discuss sowing into this good soil for the Kingdom.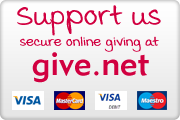 Please email info@ndhop.org